Disclosure: My site is reader-supported. I may get commissions when you click through the affiliate links (that are great products I use and stand by) on my articles.
Any serious-minded business owner or administrator understands the benefits of fostering a positive image for their business.
Videos are right up there on the list of mediums that do this effectively.
That explains why they are utilized widely for numerous external and in-house purposes.
While video creation has been simplified through the use of AI video generators; the same can be said of editing.
Ordinarily, video editing is a tedious and time-consuming process.
Professional video editors estimate that they need around 5 hours to edit a one-minute video.
That's almost a day just to add background music, video transitions, and other basic editing to your 4-minute business videos.
That time may sometimes vary, depending on a host of factors, but it is never an easy task.
In fact, it took me over two days to create and edit a 1-minute-3–second video animation project, althought I did other things in-between.
I thought, "there must be a better way" and that set me off on a journey to try speed up editing tasks with AI.
So here is a list of my top 5+ best AI video editing tools to save you the time and energy it takes to edit videos!
Let's dive in.
What are the best AI video editing tools?
Here's the breakdown.
| Software | Pricing (starts from) | Free plan/trial? | URL or Device Storage | Elements Library | Video Effects |
| --- | --- | --- | --- | --- | --- |
| Magisto | $4.99/month | ✅ | Both | ✅ | ✅ |
| RunwayML | $15/month | ✅ | Device Storage | ✅ | ✅ |
| Aivo | $9/month | ✅ | Device Storage | ✅ | ✅ |
| Rawshorts | $39/month | ✅ | Both | ✅ | ❌ |
| Wisecut | $57/month | ✅ | Device Storage | ❌ | ✅ |
Magisto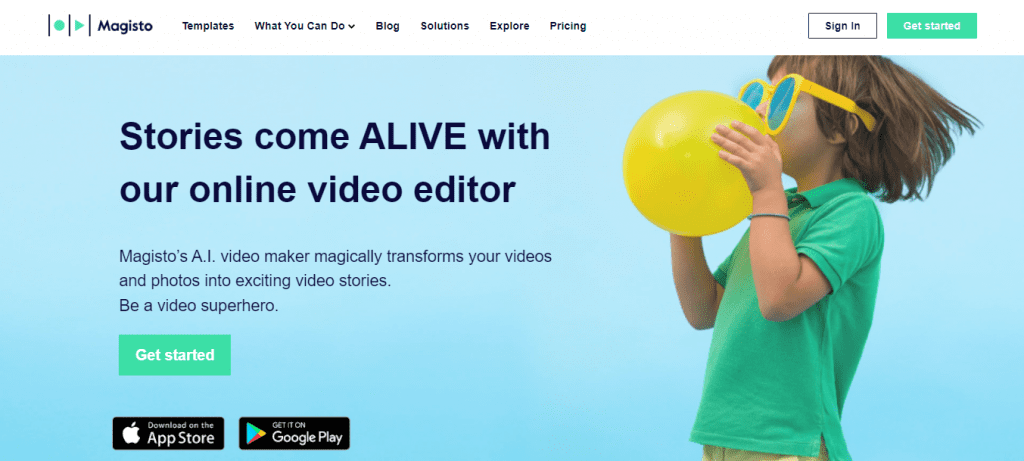 Looking back at how much I love to get my hands on creating and editing things, it's almost impossible to believe I'm finally embracing AI video editing.
That's because Magisto makes this an even more enjoyable process for me.
This is an outstanding video editing tool that's quite popular among business owners. It is the perfect video editing assistant you need for stunning videos that grow awareness, relationships, and massive sales.
To edit video content with Magisto, start by uploading the video you want to edit. There are a couple of options, including choosing the file from your local storage.